Niagara
Conveniently located between Niagara Falls and Buffalo, NY, HTR Niagara (formerly Branches of Niagara Campground Resort) offers the ultimate camping experience. This campground offers luxurious lodging in our log cabin rentals, stylish yurts, spacious RV sites, and cozy tent campsites. Rated one of the top lodging locations in the Greater Niagara Region, HTR Niagara strives to make your next family vacation a memorable one!
For more detailed information about our park, please visit the official HTR Niagara website. 
View On Map ›
2659 Whitehaven Road, Grand Island, NY 14072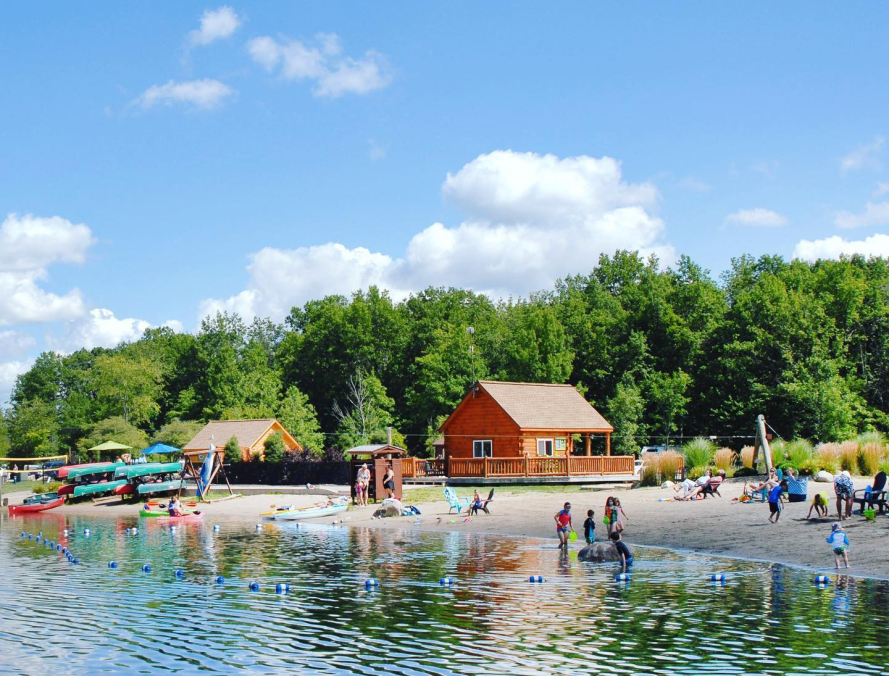 Site Amenities
Activity Center
Bathhouses
Dog Park
General Store
Heated Swimming Pool
Laundry
Playground
Experiences
Beaches
Boat Rentals
Crafts
Daily Activity Programs During Summer
Gaga Ball
Laser Tag
Pedal Bikes
Wagon Rides
Wildlife Shows
Zipline
Site Map
Have Questions About Your Stay? We Got You.
We understand that plans can change unexpectedly, and we want to ensure that our cancellation policy is fair to all our guests. As such, we have implemented a clear and concise cancellation policy for our property.
When you make a reservation with us, full payment is required at the time of booking. If you need to cancel your reservation, we kindly ask that you do so at least 30 days prior to your confirmed arrival date. If you cancel more than 30 days in advance, we will refund your payment, less a $35 cancellation fee.
However, if you need to cancel within 30 days of your confirmed arrival date, we will refund 50% of your payment. We hope that this policy provides you with the flexibility you need while still allowing us to maintain our high level of service.
If you need to cancel your reservation, please contact us as soon as possible to begin the process. We will be happy to assist you and provide you with a confirmation of the cancellation number. It is important to keep this number for verification purposes, and it is your responsibility to ensure that you have received the confirmation. Thank you for your understanding of our cancellation policy, and we look forward to hosting you at HTR Niagara in the future.
If you have any questions, please contact our staff at (716) 773-7600.
We do not provide a shuttle service. Uber, Lyft or taxi companies are available in the area at a reasonable rate.
You can view the falls from the American Falls State Park which is in the US. If you wish to view the falls from Canada, a passport is required. For more international travel information visit the following links:
We are located just 10 minutes from the American Falls State Park. The Rainbow Bridge border crossing to Canada is located right next to the falls.
You may smoke at your site but out of the courtesy of our guests, please refrain from smoking/vaping in any common areas or indoor facilities.
We do allow golf carts. Please respect the following:
Electric golf carts only.
Must have proof of insurance.
Golf carts can only be operated by licensed drivers.
Golf cart drivers must observe the 5 mph speed limit at all times and remain on gravel roads.
Golf carts may not be  operated after dark.
Owners accept all liability and responsibility for actions of drivers of their golf carts.
We have firewood bundles available for purchase from our General Store. According to state law, firewood cannot be transported more than 50 miles in order to reduce the spread of invasive species. In order to maintain the growing landscape of the campground, please do not cut down or damage any trees.
Your log cabin/yurt rental will include furniture and appliances as described on our website. You will need to bring all cooking and eating utensils, personal necessities, and outdoor grill utensils.
We do have outdoor storage available on campground property. Please inquire with our office manager if you are interested.
Yes we do! Quiet hours are between 10pm to 8:00 am.
Any guest under 18 years old must be at their campsite during quiet hours unless accompanied by an adult.
Visitors are allowed at your site but will be required to pay a visitor fee upon arrival.
Visitor pass is valid until 10 pm.
Total number of persons per site including visitors may not exceed 12.
We do allow arrivals to the campground after the office is closed but no later than 12 pm. In the event that you are running late please let us know. There will be a map prepared for you and left outside the General Store door in the late arrival area.
In order to make a reservation we do require payment in full.
Our reservations are not site specific. You may submit a request when booking and we will satisfy if possible.
We do not offer lock-in fees at this time