Durango
Nestled in a protected box canyon surrounded by high cliffs of Douglas Fir and Ponderosa Pine and just minutes to downtown Durango, HTR Durango, formerly Lightner Creek Campground, is located on a seasonal mountain stream, making it an ideal setting for nature lovers of all ages. The paved county road off HWY 160W to our campground is well maintained, making the 1.5-mile drive easily accessible, regardless of what you are bringing. Enjoy a wide variety of recreational activities in the Durango area, including a plethora of hiking and mountain biking trails, fishing, river rafting, rock climbing, zip-lining, off-roading, horseback riding, shopping, dining, breweries, and much more. There is so much to see and do in the Four Corners Area! If you are looking for a memorable vacation experience in Durango, look no further than HTR Durango.
View On Map ›
1567 C.R. 207 (Lightner Creek Rd.) Durango, CO 81301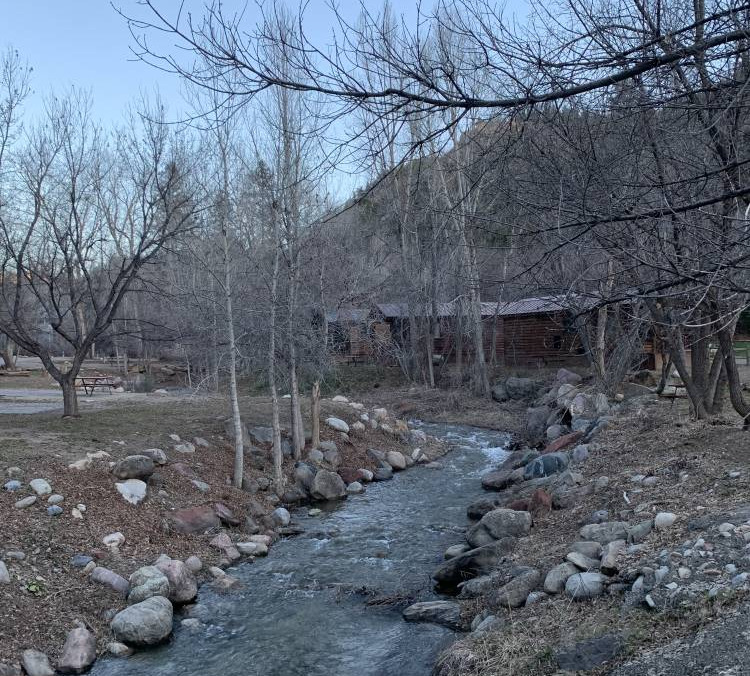 Site Amenities
4 Square
Basketball
Dog Park
Outdoor Checkers
Playground
Propane Fire Pits
Seasonal Heated Pool (Currently Closed for Maintenance)
Experiences
5 miles to town
Bird Watching
Close to Gold Medal Fly Fishing on the Animas River
Hiking/Mtn Bike Trails
Mesa Verde National Park
Perins Park State Wildlife Area
San Juan National Forrest
Site Map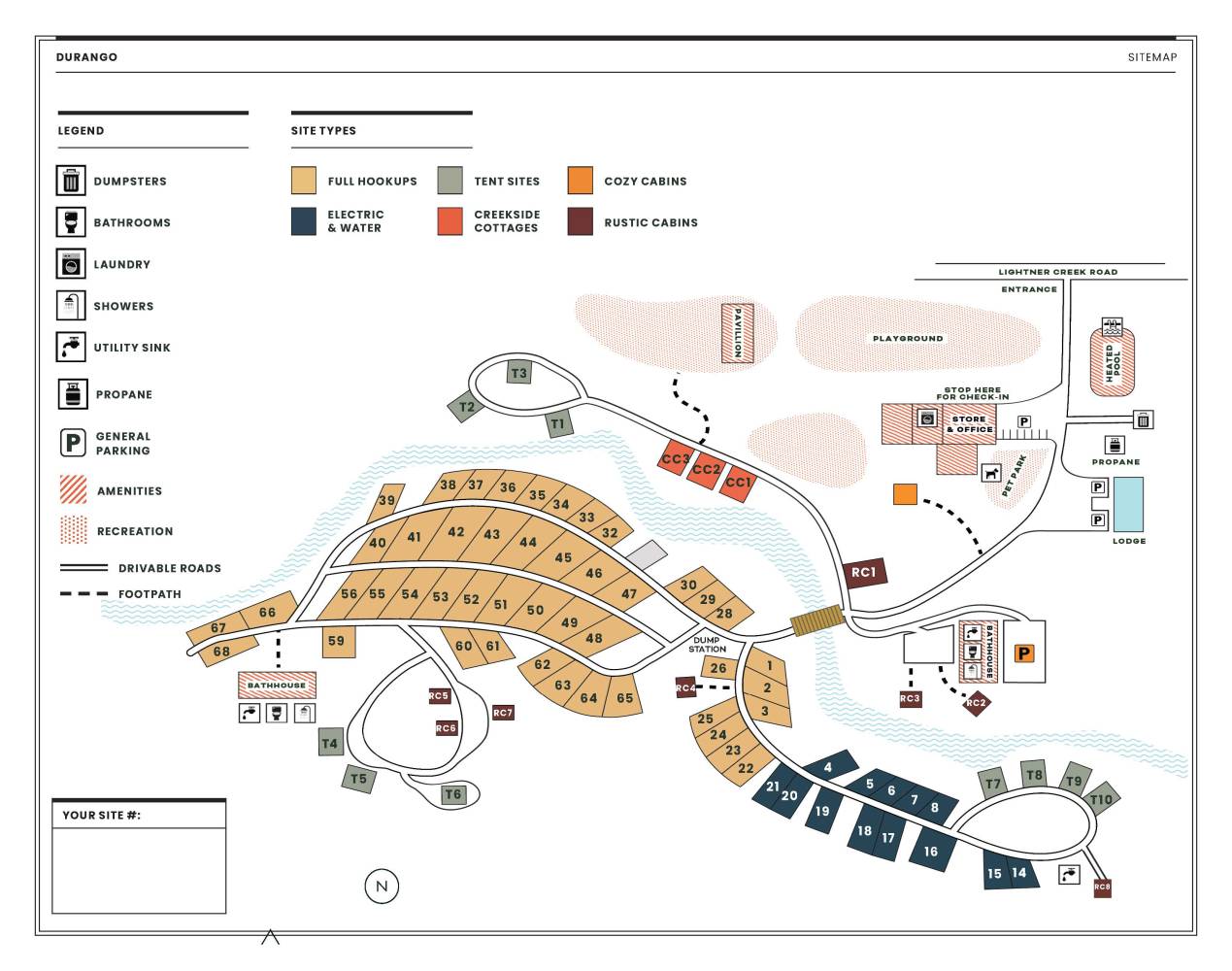 Have Questions About Your Stay? We Got You.
Dry camping ranges from May 1st-14th and October 10th -31st  If you plan to dry camp, please note that our site will only have electricity. Sites will not have access to water or amenities, including our bathhouse. We kindly ask that all dry campers arrive in self-sustaining vehicles. HTR Durango can fill water tanks upon arrival and guests can still utilize our convenient dump station on site.
Reservations cancelled 30 days or more from arrival date receive a full refund minus a $26 cancellation fee. Reservations cancelled 29 days or less from arrival date forfeit the deposit amount for a one-night stay. There are no refunds for early departure once checked in.
CHANGING DATES: It is relatively easy to change your dates if availability allows. Please call our office at (970)-247-5406 to make changes to your existing reservation.
Guests may ride motorcycles and trikes on the property. Unfortunately, we do not allow ATVs or OHVs. The county has many trails to enjoy where all vehicles can travel.
We offer 10% discounts for Good Sam, AAA, First Responders, and Military members.
One piece of equipment per site is allowed. Small play tents and easy-ups are allowed at your RV site. Each site can accommodate up to 6 guests. If you are wanting to sleep in a tent or have more than 6 people, you will need to book a tent site in addition to your RV site.
We do not offer a monthly or weekly rate. Only nightly.
We offer 50 AMP Full Hook Up, 30 AMP Full Hook Up, Water and Electric, and Tent Sites. We also have Creekside Cabins, a Duplex Lodge, Rustic Cabins, and a Cozy Cabin (tiny home) available for your stay! Please note that early May and late October, full hook up sites are weather dependent, so prepare to be self-contained.
No Problem! Check in starts at 1pm and the office is open 9-5 (or as posted). In the event you arrive and the office is closed for the day, there will be a welcome packet with your name on it on a clipboard next to the office door. Inside you will find your parking pass, a map of the campground with directions to your site, bathhouse codes, WIFI information, camp information, all that good stuff!
We have just recently upgraded our Wi-Fi! There are multiple receivers throughout the campground to help provide better coverage & faster Internet speeds. The cellphone reception depends on your provider. T-Mobile seems to have the best signal, AT&T does well, and Verizon customers tend to need to be hooked onto the Wi-Fi and enable Wi-Fi calling.
Pets are welcome & free! We do not discriminate against breeds; however, we do not tolerate excessive barking or dogs that are aggressive. Please always keep your pets on a leash and do not leave them unattended. Guests are more than welcome to check out our quaint off-leash dog park or a nearby trail to explore! Then, bring your dogs by our camp store for a special homemade dog treat!
Yes! Just a half mile from camp is Perins Peak State Wildlife Area. There are plenty of trails to explore, including the Dry Fork Loop, a popular 12 mile stretch for hikers and mountain bikers alike that links up with the Colorado Trail. Twin Buttes Trail is just 1.5 miles from camp. Stop by the office to grab a trail map!
Lightner Creek runs through the camp and is a seasonal creek at the mercy of mother nature. Its flow depends on snow melt and seasonal rainfall. You might see a little brookie trout in the early part of the season, but you are better off catching a big one in the Animas River just 5 miles east of our campground! There are also many other great fishing holes nearby, including Lake Nighthorse, Lemon Reservoir, and Vallecito Lake. Be sure to also stop by Duranglers Fly Shop on Main Street to get a fishing license and the 411 on where the fish are biting!
HTR Durango Campground is located just 5 miles west (about a 10-minute drive) from the heart of downtown Durango! Nestled in a quiet box canyon, you can enjoy the feel of the wilderness with the added convenience of close proximity to town and area attractions. There are 3 transportation services that operate in Durango, as well as Uber and Lyft, to help you with any transportation to and from town.