Estes Park
Our Yogi Bear's Jellystone Park™ of Estes Campground in Estes Park, CO, is the perfect campground and RV park for your family to explore nature! Jellystone Park is the ideal campground and RV park for your family vacation. You can take in awe-inspiring views surrounding this spectacular campground. Your family will settle for storytelling and s'mores by the campfire—a perfect pastime to end a day of fun activities. Our campground presents the best in camping for the family. We are excited to see you soon!
For more detailed information about our park, please visit the official  Jellystone of Estes website.
View On Map ›
5495 US Hwy 36, Estes Park, CO 80517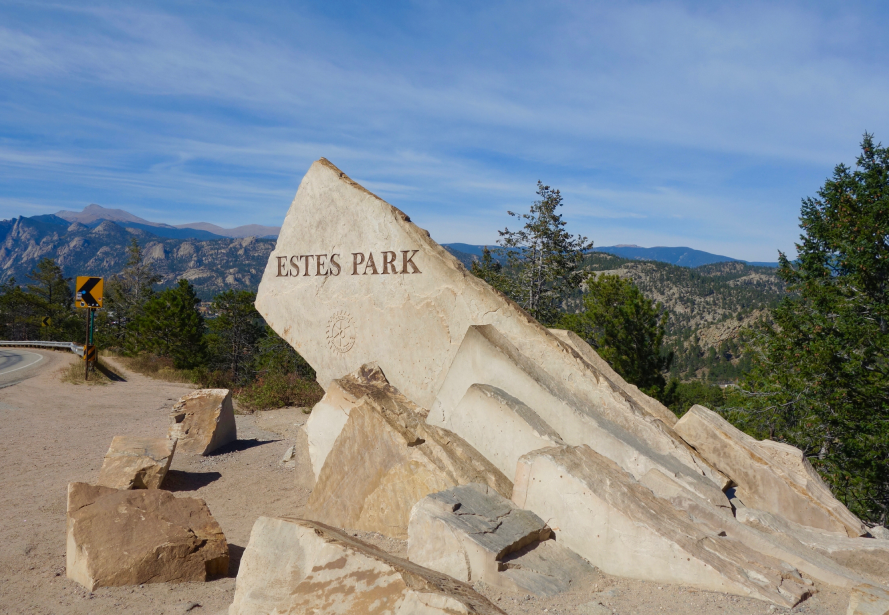 Site Amenities
2 Playgrounds
9 Hole Mini Golf
Arcade
Ball Pit
Basketball
Dog Park
Heated Swimming Pool (Open from Memorial Day to Labor Day)
Jump Pad
Pavilion
Wifi
Experiences
Adventure Tours
Go Karts
Hiking Trails
Horseback Riding
Lake Estes Marina
Rocky Mountain National Park
Site Map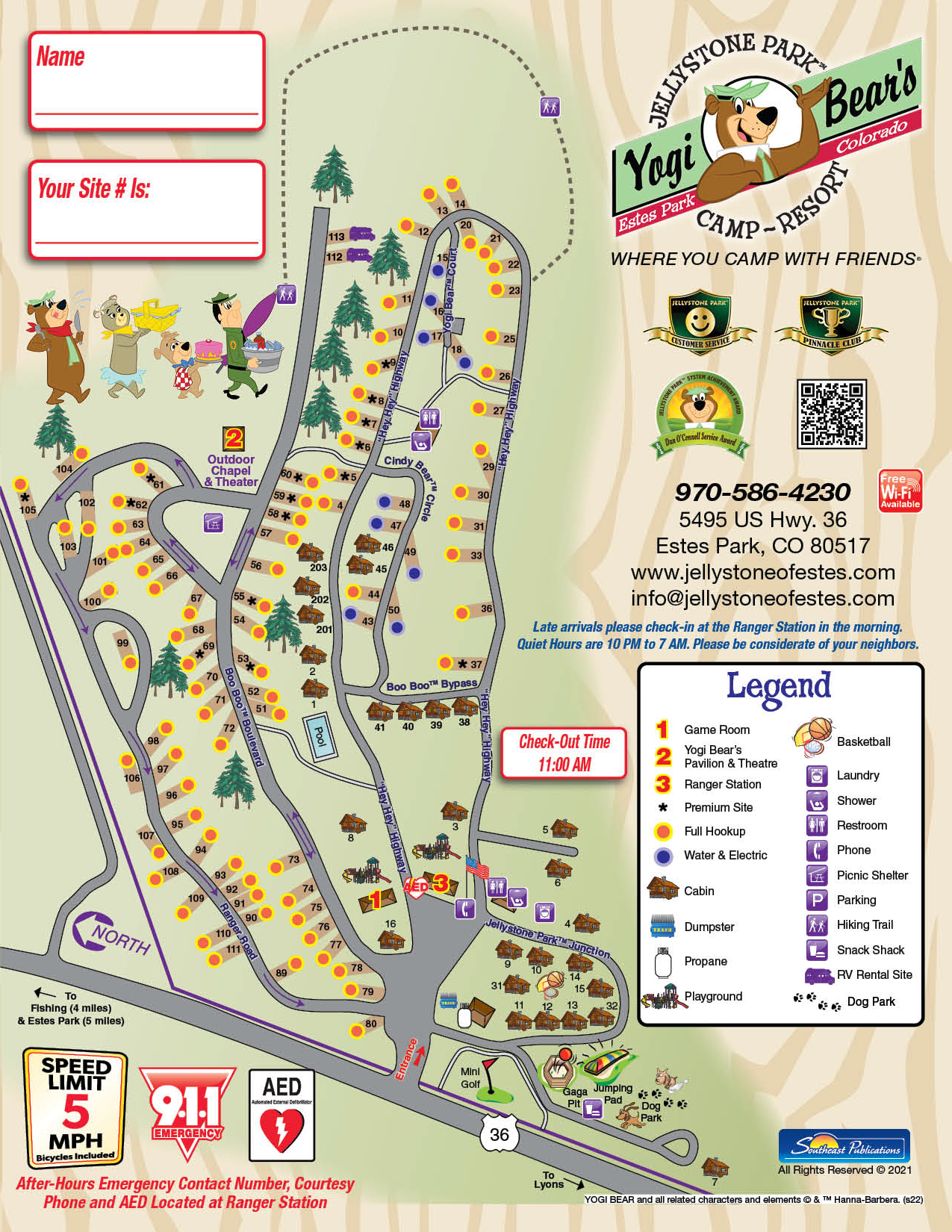 Have Questions About Your Stay? We Got You.
We have a unique array of neighboring wildlife. You will more than likely run into some smaller neighbors, like squirrels and deer on site. We do ask guests to always stay aware of their surroundings and avoid engaging with wildlife. Please lock up all food securely. Hunting, trapping or the pursuit of wildlife is strictly prohibited on site.
Yes, we offer Good Sam, Military and first responder discounts.
Yes! Between June 2nd and August 20th, we have daily activities available to all campers.
Our pool opens beginning the Friday before Memorial Day through Labor Day weekend.
Every guest is given a wristband during their stay at Jellystone Park. These wristbands can be used to purchase additional activities on site as well as purchases from our Pic-A-Nic basket. The payment is charged to the card on file for your site, and a notification is sent immediately upon purchase to the reservation holder's email. For more information, you can call our friendly front desk staff members at (970) 586-4230.
Most experiences are free to guests at Jellystone to experience, but we do have some activities that require a small fee to participate. Participating in bingo, ceramics, laser tag, gem mining, our arcade room and concessions at our Pic-A-Nic basket store are an additional cost.
WiFi is available throughout the campground. Don't plan on streaming any movies from the internet, but email, Facebook, and general web surfing should work just fine. A courtesy phone is provided at the office for your convenience. Cell phones can be spotty on site. Some areas work great and other areas hardly at all depending on carrier.
Our cottage, three bears, and RV rental units come supplied with linens. We do ask that you bring beach towels for pool use. Camping, cozy, and comfort cabins do not come with linens.
Tents are allowed in our tent sites and W/E/S sites. They are not allowed on any of our full hook up sites.
You can check in any time after 1 PM for campsites, and 3 PM for cabins. Check out for all guests is at 11 AM.
Office Hours may vary. Weekends are 8 AM -8 PM
Weekdays may vary from 9 AM -4 PM during shoulder season and 8 AM – 6 PM in season.
Smoking and vaping is allowed on personal RV and tent sites. Guests are prohibited from smoking or vaping inside cabins and community areas.
Yes, we do have laundry facilities available during office hours.
Early check-in or late check-out times may be available, but please check with the park office first.
We are located about 5 miles from the town of Estes Park and about 10 miles from Rocky Mountain National Park. To schedule transportation in advance, go to https://www.estesparkshuttle.com/. There is no way to walk to town and there are no ride-sharing apps (Uber, Lyft, etc.) available in Estes Park. Please make transportation plans in advance!
Yes! We have our own hiking trails in the park. We are also surrounded by thousands of acres of national forest with many miles of hiking trails that are accessible from the campground.
If you arrive when the check-in desk is closed, there will be a site map posted on the front of the building labeled "Ranger Station" with your name and site number on it. The after-hours phone number is also listed next to the Ranger Station door where you will also find a landline phone if you need to contact the staff for any reason.
We understand that plans can change unexpectedly, and we want to ensure that our cancellation policy is fair to all our guests. As such, we have implemented a clear and concise cancellation policy for our property.
Cancellations made seven days before your arrival date will be refunded to the credit card given during the reservation with a $25 cancellation fee. Cabins must be canceled 30 days before your arrival date to receive a full refund, less a $25 cancellation fee. Reservations canceled within seven or 30 days of your arrival date are non-refundable. You must cancel holiday and Halloween weekend reservations 14 days before your arrival date to receive a refund less a $30 cancellation fee. Cabins must be canceled 30 days before your arrival date to receive a full refund, less a $30 cancellation fee. Reservations canceled within 14 or 30 days of your arrival date are non-refundable. Changes will be treated as cancellations, and re-booking and cancellation fees will apply. Campsite reservations are non-transferable. Refunds will not be given due to the discomforts of nature.
To avoid any inconvenience, please ensure that your travel plans are finalized at least 30 days before your arrival.
We regret that cabin stays are non-transferable, but we do offer optional travel insurance through USI to give you peace of mind. Please click here to learn more about the coverage options: https://my.travelinsure.com/campjellystone/?pcode=60003
Please note that all rates, specials, terms, and policies are subject to change at any time without notice. Thank you for your understanding of our cancellation policy, and we look forward to hosting you at Yogi Bear's Jellystone Park™ of Estes Campground in the future.
If you have any questions, please contact our staff at (970) 586-4230
No. For the safety of our guests, we do ask that no ATVs, dirt bikes, or similar off-road vehicles are driven on the property. Golf carts and all road-legal vehicles are allowed!
Yes! All our RV-designated sites offer water, electric, and sewer hookups included in the price. We have 20, 30, and 50-AMP electric available. Water is not available at an RV site before May and after September. A water fill-up station is available for free for all guests.
Unfortunately, we do not have any natural water features at the campground, but Estes Park has many options for fishing and boating! We do have a pool open from 10 AM to 8 PM daily.
Golf carts should be reserved as far in advance as possible as we do run out of them quickly. The elevation and hills can be challenging for some so be sure to reserve early! Golf cart rentals are $60-$80 per day.
Yes. Campfires are allowed if they are contained within the provided fire ring at each campsite and or if they are contained within the provided fire ring at each campsite and are kept below knee level.
Residential pets are welcome on our campsites so long as they are kept on a leash at all times, cleaned up after, and not left alone. There is a $25 fee per pet per night.