TX Hill Country
Located in Kerrville, Texas, HTR TX Hill Country (formerly By The River RV Park & Campground) retains a peaceful and quiet atmosphere across 65 acres of nature trails, campgrounds, RV sites, vacation rental tiny homes for glampers, and picnic areas, all along the calming waters of the Guadalupe River. Experience the quiet, serene nature in the Texas Hill Country.
SOLAR ECLIPSES: We are directly in the path of a pair of awesome astronomical events – the annular solar eclipse on October 14, 2023, and the total solar eclipse on April 8, 2024! We're filling up fast, so book your site (or cottage today) today!
View On Map ›
175 Riverview Rd, Kerrville, TX 78028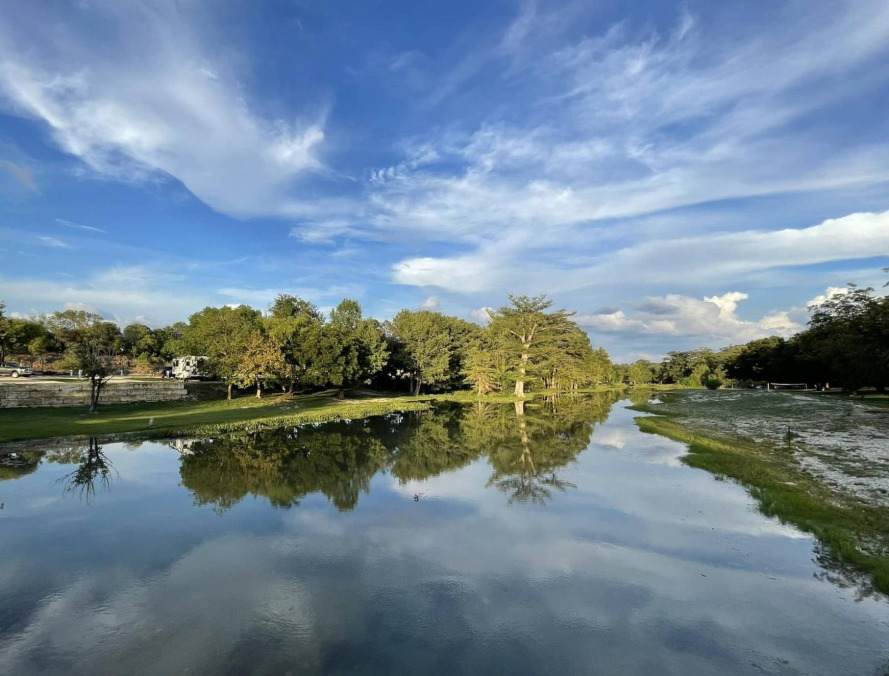 Site Amenities
24 hour passcode protected bathhouses
Camp Store
Fire Pits
Free WIFI
Frisbee Disc Course
Pet stations
Rec Room
Swimming Pool
Tiny Homes
Volleyball Net
Experiences
Direct access to Guadalupe River
Kayaking
Kids activities
Paddle Boarding
Tubing Rentals
Site Map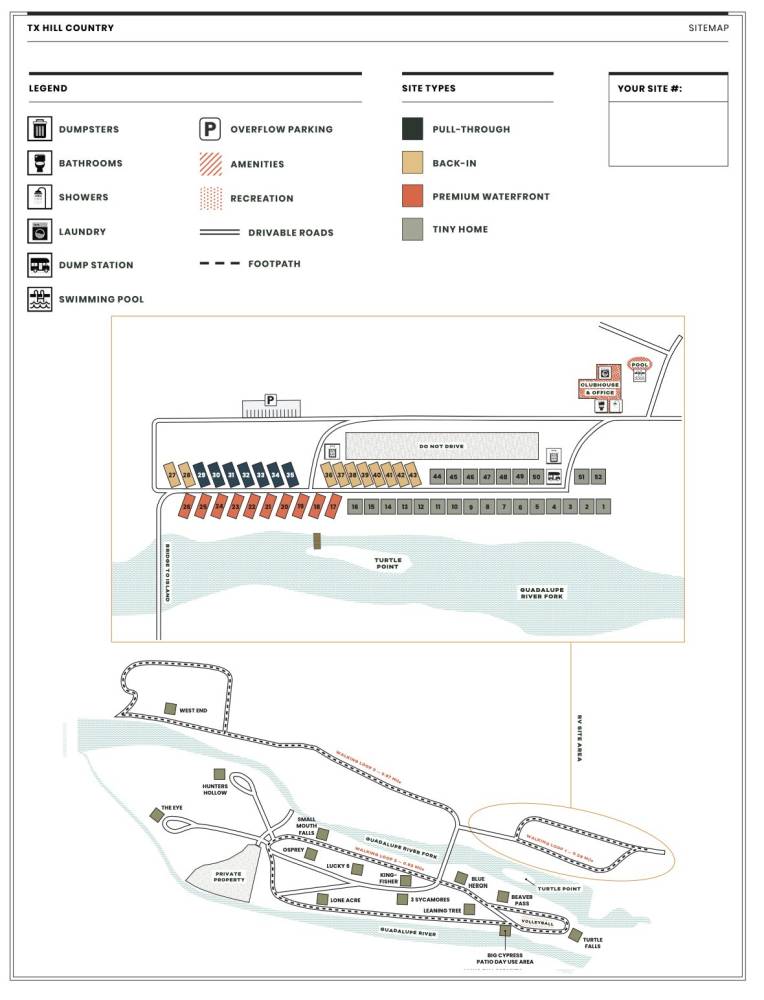 Have Questions About Your Stay? We Got You.
We understand that plans can change unexpectedly, and we want to ensure that our cancellation policy is fair to all our guests. As such, we have implemented a clear and concise cancellation policy for our property.
When you make a reservation with us, full payment is required at the time of booking. We accept MasterCard, Visa, Discover, American Express, or Cash for your convenience. If you need to cancel your reservation, we kindly ask that you do so at least 30 days prior to your confirmed arrival date. If you cancel more than 30 days in advance, you will incur a $35 cancellation fee. However, if you need to cancel within 30 days of your confirmed arrival date, you will forfeit 50% of your deposit. We hope that this policy provides you with the flexibility you need while still allowing us to maintain our high level of service.
Please note that we do not offer refunds for unused nights in the event you choose to leave before your reserved stay is over. We appreciate your understanding of this policy.
If you need to cancel your reservation, please contact us as soon as possible to begin the process. We will be happy to assist you and provide you with a confirmation of the cancellation number. It is important to keep this number for verification purposes, and it is your responsibility to ensure that you have received the confirmation. Thank you for choosing HTR TX Hill Country, and we look forward to hosting you in the future.
If you have any questions, please contact our staff at (830) 367-5566.
We do allow fires in campfire rings only. When we are on a fire ban, we allow propane fire pits and the ability to use charcoal in the grill for cooking purposes.
Our smallest campsite is 3 acres!
To ensure that all campers have the best experience we do limit some accessories including but not limited to: No porches, no outdoor freezers, no political flags and no storage underneath campers.
Yes! All guests and vehicles must register at the office prior to entering the campground.
Yes, we have a small store that is open during office hours. We have ice cream, souvenirs, ice, river tubes, fishing poles, bobbers, and RV/camping supplies.
We have a unique array of neighboring wildlife. With the hustle and bustle of the campground, it is highly likely for guests to see 2 types of deer (Axis and Whitetail). We have a deer feeder and lots of varieties of birds. We also have many different types of turtles that are seen throughout the park. We do ask guests to always stay aware of their surroundings and avoid engaging with wildlife. Hunting, trapping or the pursuit of wildlife is strictly prohibited on site.
Smoking and vaping is allowed on personal RV and tent sites. Guests are prohibited from smoking or vaping inside Tiny Homes and community areas.
Yes! We offer Good Sam, First Responder and Military discounts.
Yes! We offer seasonal rates. For pricing, visit our 'Book Now' page.
Yes. All of our RV sites are fully upgraded sites with 30, 50 and 120 amp sites available. Please note that our tent sites are completely primitive.
Yes! We have "Crafting with your kids" on Saturdays, independent scavenger hunts, the pool, the river, lots of fun games, paddleboard and kayak rentals, and many areas to explore nearby.
Our office is open 10 AM to 5 PM, 7 days a week.
Yes, we do have laundry facilities available during office hours.
We are about 26 miles away, but don't stop your trip right there! Kerrville has many other fantastic areas to explore, including 2 wineries and 2 breweries, the Museum of Western Art, the Point Theatre, Stonehenge II, the Riverside Nature Center, and the Coming King Sculpture Garden!
Early check-in or late check-out times may be available, but please check with the park office first.
Our check-out time is 11 AM, and our check-in time is 3 PM.
Yes! We have many areas to use during the day with access points to the river so you can enjoy the river or a picnic with a beautiful scenic view.
We have awesome Wi-Fi and cell reception.
Residential pets are allowed on all sites excluding our Tiny Homes. Guests are limited to two pets per site and we require all pets to be on a leash and be picked up after. We have 10 pet stations and 65 acres with walking trails and plenty of wildlife to explore with your pets!
Yes, we have trails on site and there are many within the area. Enchanted Rock, Lost Maples, and Pedernales Falls are nearby.
Yes! There are many fishing spots both on the Guadalupe River and the Fork of the Guadalupe. A valid Texas fishing license is needed, though.
HTR TX Hill Country is located just 5 miles northwest (about a 10 minute drive) from the heart of downtown Kerrville! There are plenty of amazing restaurants and shops nearby to enjoy.
a. Yes, golf carts are allowed. Proof of liability insurance is needed, and the driver must have a current valid driver's license. The driver must stay on the park roads. ATVs are not allowed.
Your TX Hill Country Adventure Starts Here.
Book Now ›