Black Hills
Explore the beauty of HTR Black Hills (formerly American Buffalo Campground). This unique destination is home to Mount Rushmore as well as numerous national and state parks, and local attractions. So, stay awhile when you tour all the mountains, canyons, caves, and rock formations with the spectacular backdrop of South Dakota. Nestled under tall pine trees, in the heart of the wonderful Black Hills, our on-site recreational facilities include a heated swimming pool & hot tub (open Memorial Day to Labor Day, weather permitting), mini golf, a playground area for children, basketball court, horseshoe pits, and wooded walking trails offer something for everyone!
View On Map ›
13752 S US Highway 16, Rapid City, SD 57702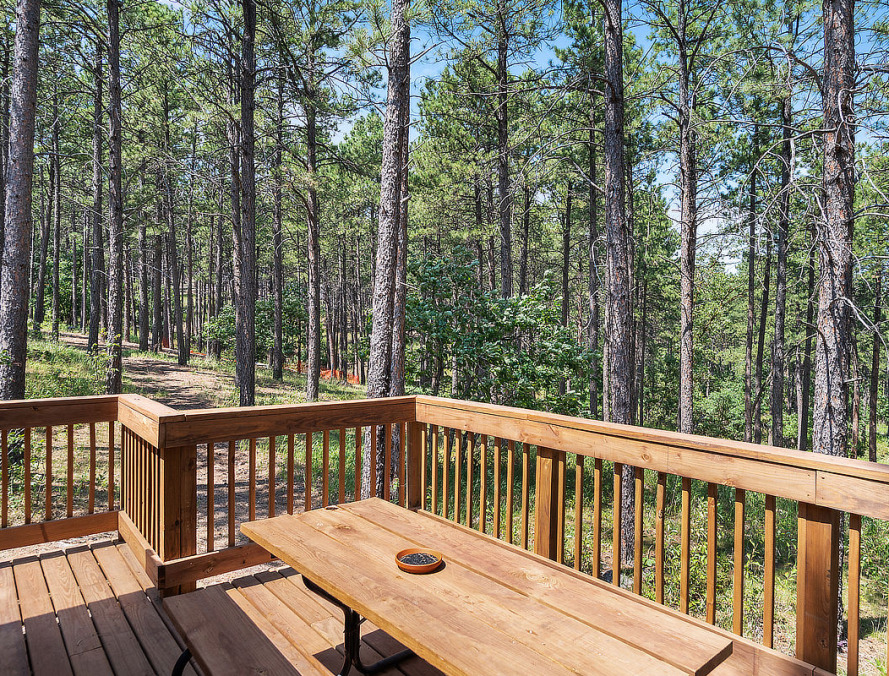 Site Amenities
Basketball
Bathhouses
Heated Swimming Pool
Horseshoe Pits
Hot Tub
Laundry
Mini Golf
Playground
Experiences
Badlands National Park
Black Hills National Forest
Crazy Horse Memorial
Devil's Tower National Monument
Jewel Cave National Monument
Minuteman Missile National Historic Site
Mount Rushmore
Wind Cave National Park
Site Map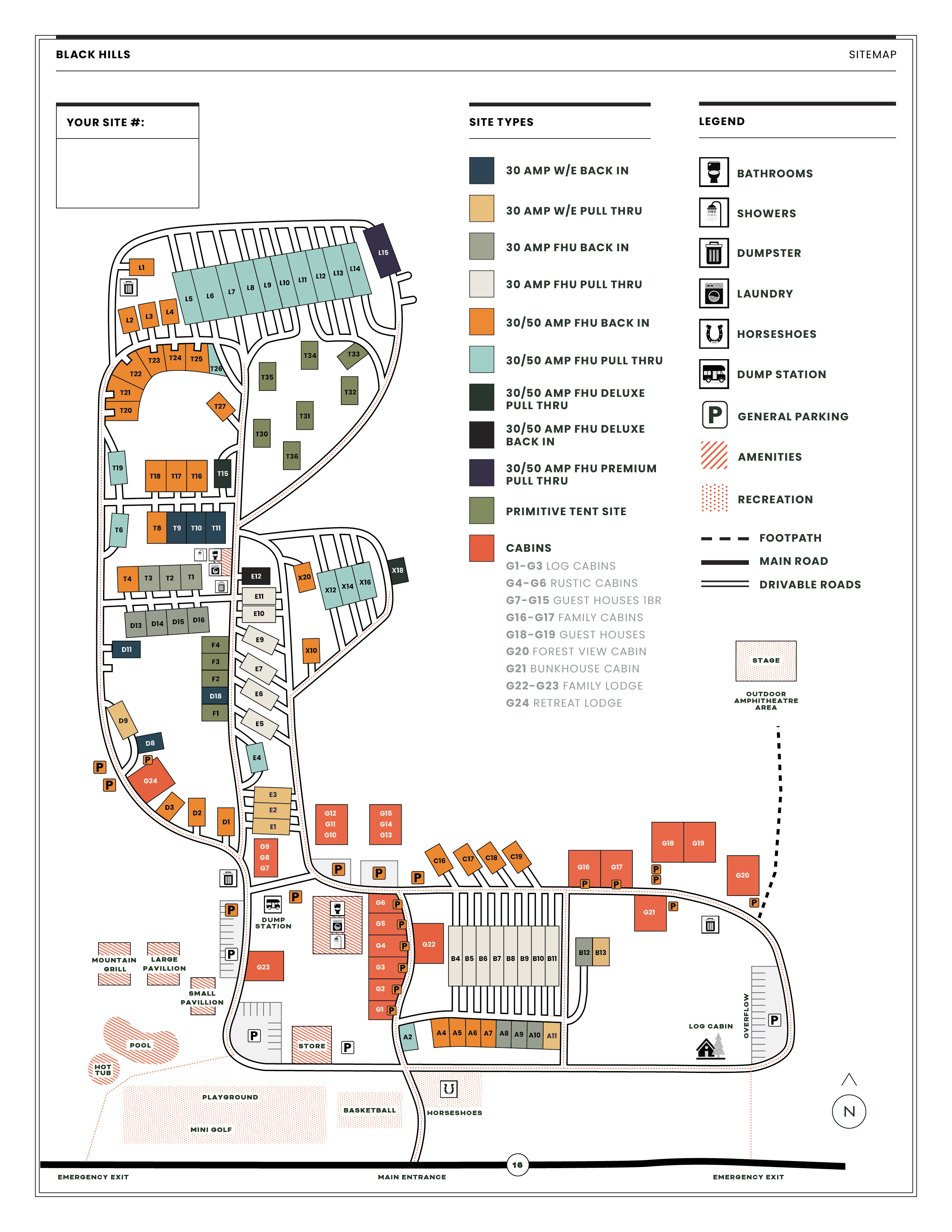 Have Questions About Your Stay? We Got You.
Yes. We ask that you follow all road rules and make sure to keep your cart or atv on designated roads.
Yes. Quiet hours start at 10 PM each night.
Yes! All visitors need to stop and report to the office in order to get a visitor parking pass.
2:00 p.m. for RVs and 3:00 p.m. for Cabins
Office hours are 8:30 – 7:00 p.m. during season.
We have a unique array of neighboring wildlife. With the hustle and bustle of the campground, it is unlikely to encounter large animals on the site. We do ask guests to always stay aware of their surroundings and avoid engaging with wildlife. Hunting, trapping or the pursuit of wildlife is strictly prohibited on site.
Yes, we offer Good Sam and Military discounts.
Yes, we have a coin operated laundry facility.
Yes, all our cabins come with linens and bath towels.
Residential pets are allowed on all sites. We require all pets to be on a leash and be picked up after.
Smoking and vaping is allowed on personal RV and tent sites. Guests are prohibited from smoking or vaping inside cabins and community areas.
We promote a safety-first culture here at HTR Black Hills. Some sites do not allow us to follow the spacing regulations set forth by the South Dakota Department of Public Safety Wildland Fire Division. For your convenience, 2 community fire pits are available for use by all guests.
Minigolf and the playground are open from sunrise to sunset.
Yes! We have a 15 person cabin that is available for rent and comes with everything needed to comfortably house your entire party. We also have a rentable pavilion that is perfect for hosting day time activities such as reunions and gatherings.
Early check-in or late check-out times may be available, but please check with the park office first.
We understand that plans can change unexpectedly, and we want to ensure that our cancellation policy is fair to all our guests. As such, we have implemented a clear and concise cancellation policy for our property.
We require full payment upon booking and have implemented a 30-day cancellation policy. If you choose to cancel your reservation via email 31 days or more before your confirmed arrival date, a $35 cancellation fee will be retained, and the remaining deposit will be refunded to you. However, if you choose to cancel via email 30 days or less prior to your arrival, 50% of the total booking will be refunded.
Please note that no-shows will be charged for the full reservation and early departures are non-refundable. All cancellations must be received via email and a cancellation confirmation will be sent to you via email as well. Please ensure that you receive this confirmation and understand that no cancellations will be accepted via telephone.
If you have any questions, please contact our staff at (605) 342-5368.
Car Rentals: Enterprise at Rapid City Airport.
Mobile RV Repair:

Travel Tyme – Doug Russell – (605) 877 – 6053
True North – Andrae Daniels – (605) 939 – 6426

RV Mobile Doc – Don Nichols – (910) 998 – 3600 (text or call)
Diesel Repair:

RNJ Auto Inc. – (605) 786 – 4222
Infiniti Diesel – (605) 393 – 5533
Mount Rushmore: about 15 minutes.
Crazy Horse: about 20 minutes.
Grocery Stores:

Conoco: 1 mile south of the resort.
Walmart: about 15 minutes away (in Rapid City).
Safeway: there are 2 locations, Mt. Rushmore Road, and Mountain View Road.

Nearest Restaurants:

Gas Light in Rockerville.
There are many restaurants in Rapid City!

Urgent Care: Black Hills Urgent Care on Mountain View Road across from Safeway.
We are excited about the future expansion of our RV sites and the remodeling of our cabins! Stay tuned for details of some incredible upgrades!
Our guest service representatives will be happy to try and accommodate a group who would like to stay together. Site availability and size of RVs will be factors in accommodating these types of requests. Please call our office for details: (605) 342 – 5368.
A majority of our sites come equipped with both fire pits and outdoor seating. Amenities vary from site to site, so we recommend reading through our descriptions to learn more.  All guests have access to our 24 hour bathhouse, community grilling area, laundry service, playground* and mini golf course*.
*Hours may vary
The office stays open to accommodate check-in up until dusk. Our park roads are tree-lined and hilly, so for the safety of all guests, those arriving after the office closes will have received instructions from our guest service representative prior to their arrival.
Your Black Hills Adventure Starts Here.
Book Now ›