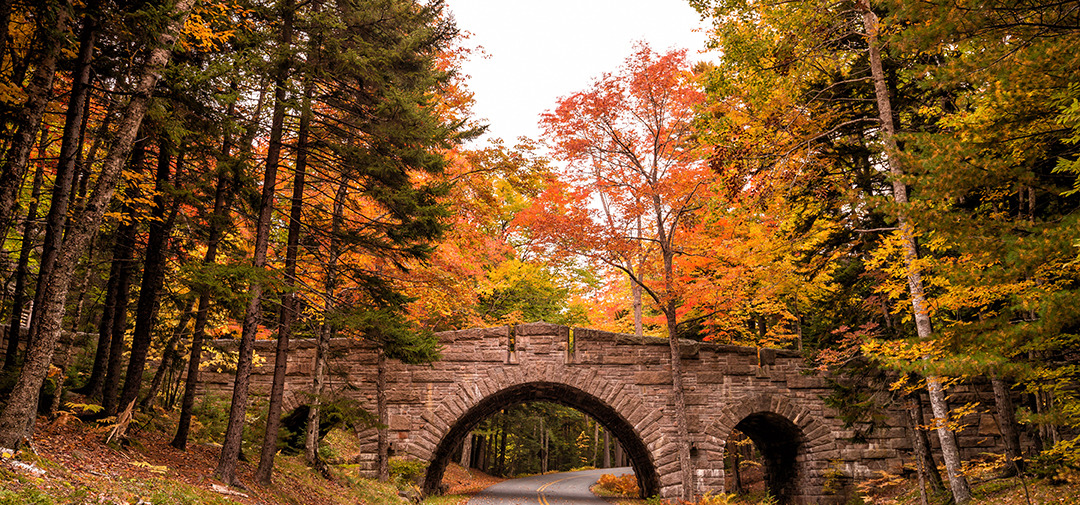 HTR's Top Leaf Peeping Destinations
As the fall season approaches, it's time to hit the road and immerse yourself in the breathtaking beauty of autumn's vibrant foliage. Embrace the colors of autumn as you venture through HTR's diverse campgrounds in the region, chasing the vibrant colors of the season. The centuries-old tradition of lead-peeping finds its roots in the Japanese custom of savoring the autumn season and reflecting on the passage of time, making it a truly special experience. 
When is the Best Time to Go Leaf Peeping?
The beauty of leaf peeping lies in its temporal magic. While some regions begin to paint their landscapes with hues of red, gold, and orange as early as mid-September, others save their most brilliant performances for a little later in November. So, your northeastern road trip awaits– roam, explore, and fall in love with the wonders of the season!

HTR Acadia Campground – Mt Desert, ME 
When to see fall foliage:

Mid to late October 

As the summer breeze gives way to crisp autumn air, Mt. Desert transforms into a spectacle of colors that you won't want to miss. Explore the splendor of

Acadia National Park

, where trails lead you to stunning vistas atop Cadillac Mountain and Jordan Pond. Designed by John D. Rockefeller Jr., the

carriage roads

also offer a captivating journey through a canopy of vibrant trees. You can witness the fusion of historic charm and fall foliage at

Bass Harbor Head Lighthouse

. 

 

HTR Adirondacks Campground – Old Forge, NY
When to see fall foliage:

Late September to mid-October 

Escape to the tranquil embrace of Old Forge, New York, tucked away amidst the Adirondack Mountains. Whether you're cruising along the serene

Fulton Chain of Lakes

, reliving a bygone era on the vintage

Adirondack Scenic Railroad

, or ascending

McCauley Mountain's Scenic Chairlift

for panoramic foliage views, every moment in Old Forge is a feast for the eyes. Pack your sense of wonder and embark on a leaf-peeping journey, as nature unveils its autumnal artistry and adrenaline-fueled fun at the

Adirondack Mountain Bike Festival

.  

HTR Niagara Campground – Grand Island, NY
When to see fall foliage:

Late September and mid-October 

Nestled near the Niagara River and the scenic wonders of Western New York, HTR Niagara offers the perfect backdrop for your camping adventure. Explore Beaver Island State Park's forests and riverside trails

, traverse the

Niagara River Greenway

on your RV, enjoying riverside views amid the changing leaves. Don't forget to visit local orchards and farms, where apple-picking and indulging in fresh cider complement the fall hues.

HTR Door County Campground – Egg Harbor, WI 
When to see fall foliage:

Mid-September to late October 

Near the shores of

Lake Michigan's Green Bay

and surrounded by the natural beauty of Northeast Wisconsin you'll find HTR Door County. Discover

Peninsula State Park

, with miles of hiking and biking trails offering the perfect setting for an enjoyable leaf-peeping experience. Visit the area's local orchards and farms, where you can pick apples, sip freshly pressed cider, and explore pumpkin patches surrounded by colorful foliage. For a unique blend of Door County's history and fall foliage, embark on a Historical Trolley Tour where expert local guides narrate scenic trolley rides through the region's charming backroads and landscapes.  
Cruise into color this fall and visit HTR's Top Leaf Peeping Destinations.