Fall is here, and that means it's time for football and tailgating parties! Whether you're a die-hard fan or just enjoy the atmosphere, a tailgate party is the perfect way to celebrate the game. In this blog post, we'll guide you through everything you need to know to host an unforgettable fall football tailgating party.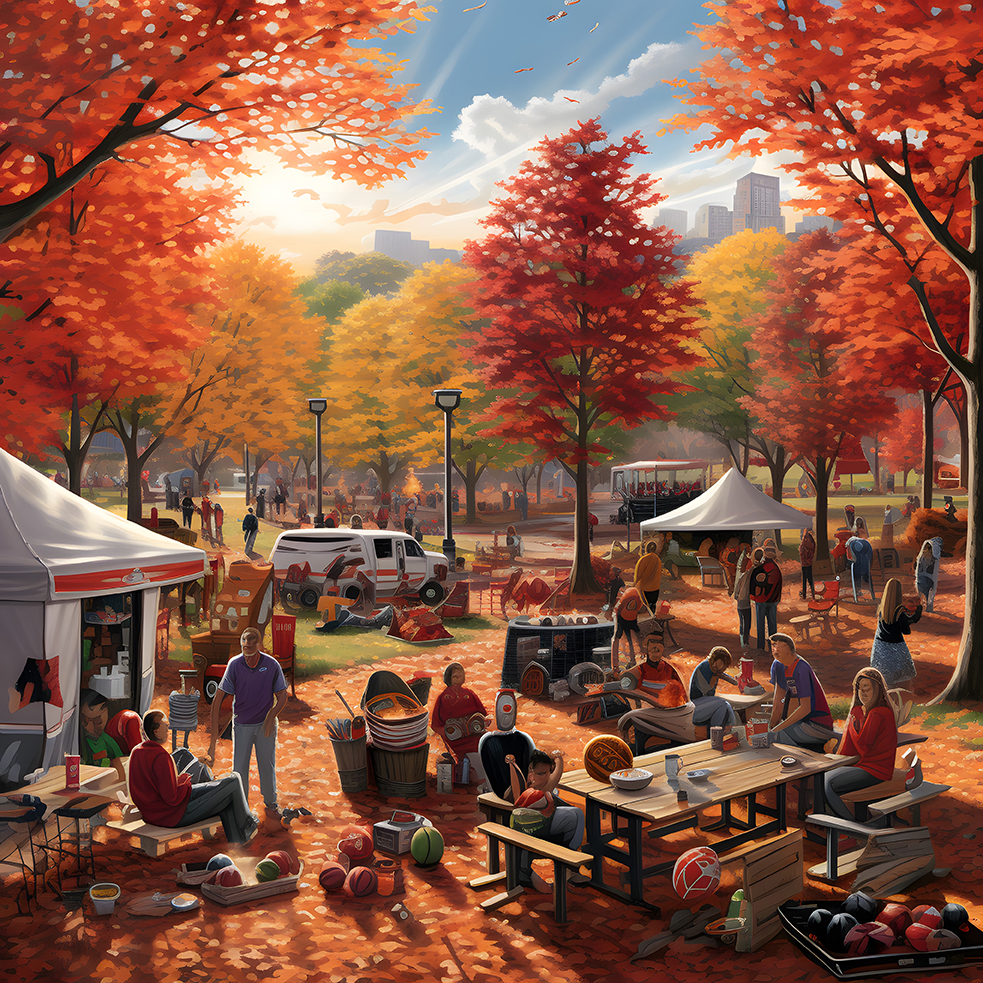 Location, Location, Location
Choosing the right spot for your tailgate party is crucial. Look for a camping site near the stadium or a local park that allows tailgating. This way, you can enjoy the game-day excitement while surrounded by nature.
Tasty and Easy Snacks
One of the key elements of a successful tailgate party is the food. No tailgate is complete without plenty of tasty and easy snacks. These 30 Tailgating Recipes for Game Day in Your RV are deliciously crafted for RV life with plenty of healthy options.
You can also incorporate local ingredients into your menu, which adds a unique touch to your tailgate experience. When camping in Door County, Wisconsin, try some tasty cheese dishes suggested by the locals. Ask the front desk for advice on where to buy groceries or visit the camp store for recommendations.
Thirst-Quenching Beverages
There are plenty of options to choose from for beverages. Many of our RV parks (HTR Durango and HTR Estes Park) have local breweries nearby, allowing you to enjoy some locally brewed beers. However, if you're camping in Colorado or the Badlands, like at our HTR Black Hills, be cautious when drinking alcohol at high altitudes. It's important to stay hydrated and drink responsibly.
It is important to cater to the whole family. These concoctions satisfy all ages and those that don't imbibe. You can even get creative and make drinks that match your team's colors!
Make it Festive
In addition to food and drinks, don't forget to show your team spirit with decorations. Use tablecloths, dinnerware, and party décor in your team's colors to create a festive atmosphere.
If you forgot your gear, no worries! Many of our parks accept deliveries or are near local mailing centers. Our parks have convenient central locations that make shopping in neighborhood stores easy! Our HTR Acadia campground is minutes from the charming town of Bar Harbor, perfect for finding unique gifts from local artists. Some parks like HTR Adirondacks and HTR Niagara have local team merchandise.
Entertainment for Everyone
The best thing about tailgating is having your friends and neighbors along for the party! Our HTR Texas Hill Country has plenty of power to support your large-screen TVs for the ultimate viewing experience. For those seeking a more luxurious experience, consider renting air-conditioned cottages for a comfortable viewing experience.
Be a Considerate Tailgater
Camping and tailgating combine the best of both worlds: enjoying the outdoors while watching your team on TV. Remember to consider your neighbors when cheering and celebrating, so that everyone can have a great time camping this fall!
This autumn, bring your friends, take your RV, and go to a nearby campground for a fun tailgate party. Enjoy the game, the food, and the great outdoors while creating lasting memories with your loved ones. Fall means football, and camping makes the perfect spot for a tailgate party.