Seven Scenic US Motorcycle Routes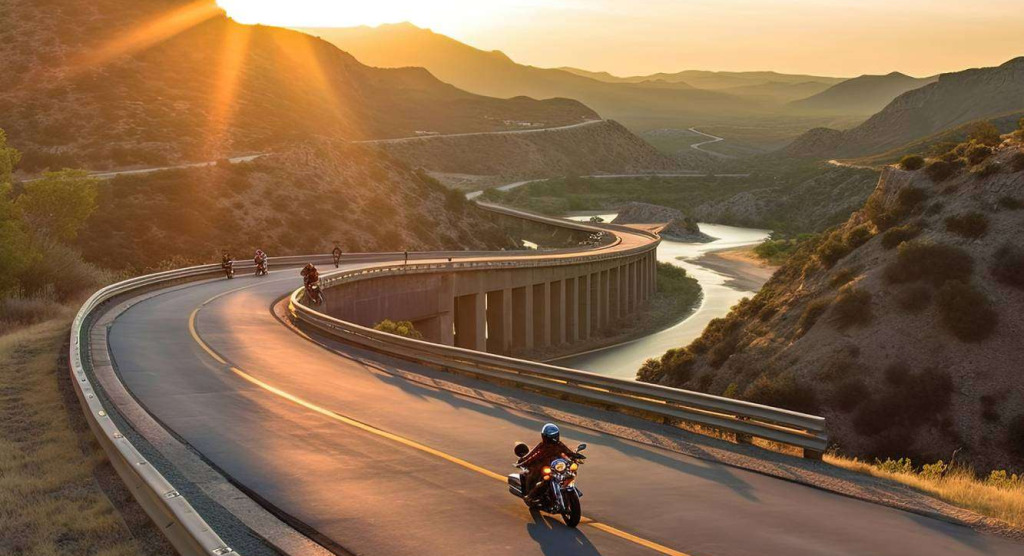 Are you an adventurous motorcycle road tripper seeking your next incredible journey through amazing American landscapes? Look no further! We've curated an exciting list of some of the most captivating routes that promise a great ride and a trip of a lifetime. 
1. Needles Highway Ride, South Dakota
Ride Length: 67 miles 
Located just south of Sturgis, this idyllic route is packed with thrilling curves, tunnels, and climbs. You'll be rewarded with plenty of sights along the way- including the iconic Mt. Rushmore and the Buffalo Roundup and Bison Center. Needles Highway through Custer State Park offers stunning views of the granite pinnacles that decorate the skyline. To take this route, take Hwy 385 south for 56 miles, or from Rapid City, take Hwy 16 south for 24 miles. 
Where to Stay: HTR Black Hills 
2. Arches National Park
Ride Length: 36 miles 
Arches National Park is a stunning destination in the U.S. that showcases Moab's breathtaking natural elements, including red rock landscapes, Native American rock art, sprawling canyons, and vast overlooks. You can explore the park on a motorcycle, enjoying 36 miles of scenic roads that lead to remarkable viewpoints like La Sal Mountains, Courthouse Towers, Balanced Rock, Delicate Arch, Windows District, Fiery Furnace, Skyline Arch, and Exit Path. While a three-hour drive is possible, we highly recommend dedicating a full day to fully appreciate the park's beauty.  
Where to Stay: HTR Moab 
3. Park Loop Road in Acadia National Park
Ride Length: 27 miles 
Experience the best of Acadia National Park on the iconic Park Loop Road. This 27-mile drive offers stunning scenery at every turn, creating an unforgettable experience. Discover sparkling lakes, towering peaks, rocky coastline, and lush forests as you explore Mount Desert Island. Don't miss any of the highlights by following our Park Loop Road Tour outline. The road is open from April 15 to November, and the best time to visit is during the fall for peak foliage. Weather permitting, the road is accessible 24/7.  
Where to Stay: HTR Acadia 
4. Good Ole Texas Loop
Ride Length: 150 miles 
Prepare to be captivated by the scenic beauty of the Good Ol' Texas Hills Loop. This route offers a plethora of breathtaking sights, including rolling hills, canyons, rivers, and lush forests. The roads themselves are just as diverse, with long stretches of highway, thrilling tight turns, and mesmerizing cliffside views. Along the way, you'll encounter numerous must-see stops that add to the excitement and popularity of this ride among fellow riders. If you're seeking a unique and unforgettable journey, the Texas Hill Country will surpass your expectations.
Where to Stay: HTR TX Hill Country 
5. NYS Route 3
Ride Length: 170 miles 
Stretching from western New York to the Adirondack city of Plattsburgh, this scenic east-to-west route is a delight for motorbike riders. Known as the "Olympic Byway," the Adirondack section of Route 3 offers a 170-mile journey from Lake Ontario to Keeseville. Along the way, you'll encounter charming towns and villages like Harrisville, Natural Bridge, Star Lake, Cranberry Lake, Tupper Lake, Saranac Lake, Lake Placid, and Wilmington. During the summer season, don't miss the opportunity to drive up Whiteface Mountain's Veterans Memorial Highway for a stunning 360-degree view.  
Where to stay: HTR Adirondacks  
6. Estes Park to Stove Prairie Landing
Ride Length: 48 miles (one way) 
From Estes, head east on Highway 34 and turn left onto Buckhorn Road. Ride through picturesque farms and enjoy twisty sections with blind turns. Witness the remnants of the High Park fire. Turn right on Highway 14 for gas and pass through a cool rock tunnel. 
Where to Stay: Jellystone Estes Park 
7. San Juan Skyway Scenic & Historic Highway
Ride Length: 236 miles 
Durango, nestled in the San Juan Mountains, is a perfect starting point for the San Juan Skyway Scenic and Historic Byway motorcycle ride. The loop offers two options: head west on Highway 160 to Cortez or north on Highway 550 to Silverton. The route showcases stunning mountain passes above 11,000 feet and transports riders through charming, preserved mountain towns. Silverton and Telluride hold rich mining history, while Mancos and Cortez reveal traces of ancient Pueblo civilizations. Don't miss the renowned "Million Dollar Highway" between Ouray and Silverton. Pass by Placerville and Ridgway and admire magnificent peaks like Mount Wilson and Mount Sneffels along the way. 
Where to Stay: HTR Durango